Not a Who's Who, But a Very Good Start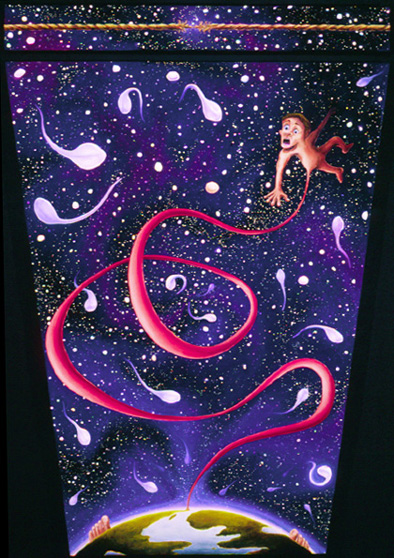 Not a Who's Who, but a very good start
By Philip Isaacson
Maine Sunday Telegram
September 1, 2002
Review of "Past-Present-Future" at Center for Maine Contemporary Art, Rockport, Maine
The current show, "Past ? Present ? Future," at the Center for Maine Contemporary Art is fascinating. This show marks the Center's 50th anniversary but it is more than a trip down memory lane. It isn't necessary to be an insider to enjoy it ? the work is often wonderful ? but the more you know of history and relationships, the richer it becomes.
I have declared my enthusiasm thus because of the muddiness of the title. Don't be put off by it. When it says Past, it doesn't mean all artists who have exhibited at the Center (under its former name, Maine Coast Artists) in the past. It means some of those among them who are still alive. If they're alive, aren't they part of the present? Isn't the Present always Past? If not, when does it begin? I could go on quibbling, but it is useful for me to say that a panel has invited 55 living artists who have shown at MCA over the years and each of them, in turn, has been asked to nominate another artist.
There were no media limitations and the nominator could wander across borders at will. The only suggestion was to use the nomination as an opportunity to boost an artist who hasn't exhibited much. Some did, some didn't.
Some nominated chums, some nominated colleagues. Some nominated artists who might be thought of as competitors, most didn't. Some nominated long-time laborers in the vineyards, others nominated artists who have achieved a higher level of prominence than they themselves have achieved. Some nominated artists with supporting outlooks; others did the opposite. In short, the levels of human emotion ? admiration, respect, generosity, sentimentality, self-protection ? on display make the galleries rumble.
This is a very big show ? nominally 110 works. Nominator sits side by side with nominee on the walls (the motivation for the nomination is thereby made graphic) and wall labels declare the qualities the host finds in the guest's art. This is not a show for a quick saunter. It's a big event in many senses of the term; it takes plenty of time and your reading glasses.
Because the basic 55 is built on past MCA exhibitors, it's not a Maine Who's Who, but it's a great place with which to begin one. When the announcement listing the featured artists arrived, I gave myself a pop quiz ? one check mark if I recognized the nature of the work, two if I thought it was durable. I scored a 63 and a 39. I'm not sure what this tells us, but I think it says that I have developed a conviction about the intensity and authority of contemporary Maine art. Even deducting big names ? Robert Indiana, Sam Cady, Paul Caponigro, Lois Dodd, Neil Welliver, William Wegman, Jed Devine, Richard Estes (you can add to this list if you like) ? the scores are still high. To this you can add the new faces and new insights into old that came to me at the show and watch the numbers grow.
In a perfect world I might try your patience with comments about all 55 of the statements and observations about all 110 works, but life is too short for all of us and so is space. The paragraphs that follow are almost random, but I hope they carry the flavor of the event and my pleasure in it.
Abby Shahn ? who showed an uncharacteristic graphic and bleak drawing of a tree in winter with a pink appointment said of her nominee, Steve Petroff, ". . . His paintings and his poetry have practically always moved me . . . when I finally understand. He is a man of honor and of great depth." This moved me as did his four acrylics with their skeletons in post-burial coffins. They are unbearably touching and sad.
Natasha Mayers, with her monumental "Map of Road Trip," nominated Lihua Lei. In her statement Mayers refers to that artist's work as "Complex, rich, and haunting, with multiple layers . . . evoked questions about . . . society's attitude toward . . . disfigurement." Lei's silkscreens on vertical heavy glass plates deals with a classic Walker Evans image in juxtaposition with one of her own with its aftermath from polio. This, too, will touch your heart.
Duane Paluska, whose own work has come to ignore categories ? i.e., craft and sculpture ? nominated Michael Randazzo for, among other things, incorporating both furniture and art. In doing so, he said, "I admire the craft, the thoughtfulness, the simplicity and the rightness of his production." So do I in "Moth Light," an undulation in red Plexiglas with tiny points of light embraced by holograms.
In his discussion of the work of Jesse Gillespie when still a high school student, his nominator Alan Magee wrote of "marvelous miniature faces drawn on small paper bags," of the seamless incorporation of lessons learned from the work of great artists and of instances of his early sophistication. Magee has served as an encourager to Gillespie and, thus, the nomination is a natural sequence. His "Zazen Stones" is classically Magee's own.
Fredrick Lynch, whose own large oil in the stairwell is a complex masterpiece, selected his former student, Michael Branca, and commented about the latter's two-part painting Connected by pointing out its "natural and uninhibited embrace of artistic license, exuberantly applied to anatomy and nature, convention and propriety, fashion and art trends." The work, too, is in the stairwell and should be sought out.
Thus far I have written about established artists urging the work of under-recognized artists. I'll depart from that by pointing out the selection of Stephen Gleasner by master woodturner, Jacques Vesery. It is obvious from the elegance and sophistication of Gleasner's dyed maple and birch vessels achieved from plywood that he is not an under-recognized artist. Perhaps his status is on a plane with that of his nominator; in any event, this is an example of courtesy to a highly accomplished artist pursuing an equivalent goal.
There is a colleague connection between Paul Heroux and Pamela Johnson (Bates and Bates) and between Mark Wethli and John Bisbee (Bowdoin and Bowdoin). Ms. Johnson's beautifully finished paintings with their almost holographic animation were presented at a large one-person show at Bates about a year ago and Mr. Bisbee is one of Maine's most prominent sculptors. In this show, it is Mr. Wethli himself who will attract the most attention. His "Transept" occupies the last space on the left side of the upper gallery. Painted directly onto the surface of the building - covering walls, ceilings and turning corners ? are a succession of squares whose colors are extracted from early (I think) Renaissance painting. They join at perilous angles to form a three-sided room. The vivacity of the conception and the buoyancy of the colors do seem to invoke the freshness ? and somehow the forms ? of the earliest years of the Renaissance.
I would like to write of Robert Indiana's choice ? Sean Ryan ? whose LCD screen in a bottle offers an image of the artist rowing. I have much the same urgings about Clark Fitzgerald's selection of Elizabeth O'Malley who provided a beautiful monochrome monotype called "Knight's Bridge," about Jonathan Bailey's nomination of photographer Chris Pinchbeck and thus the latter's gargantuan (75 inches) color pinhole called "Summer Hay Harvest." There is more, much more but you will have to see it for yourself.
Take the trip to Rockport. Happy trails.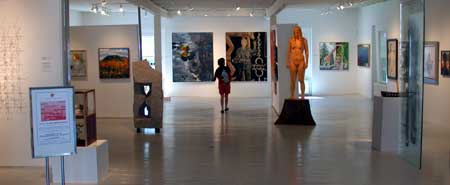 "Past, Present, Future" at CMCA, Summer 2002




All artwork copyright Michael P. Branca